Our company was founded by its predecessor named Vas- Műanyagipari Szövetkezet in 1949. As of the 1970's, it has played a decisive role as a manufacturer, in the domestic market of packaging for food industry. In 1997, Karsai Rt. acquired majority ownership. In 1998, our company moved to a new location which we keep extending since then; currently the company operates on 8,000 m² of useful floor space.
Philosophy
The aim of the collective agreement of OVM-Karsai is to provide complex service on customer's demand from the idea to the end of the entire production cycle of the product.
Our motto: Innovative solutions at your service!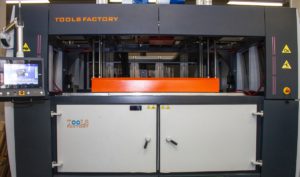 By delivering high-tech services and by constantly improving the quality of our products, we wish to satisfy our customers, our customers' satisfaction, and meet latent demands, too.
Manufacture of thin-wall packaging
Main activity of OVM-Karsai is the production of thin-walled packaging materials for food and chemical industry. A complete set of technology is available for product manufacturing (wide head extruders, thermoforming machines, printing machines, labeling and sleeve machines for food packaging products. The molding tools we use are designed by our engineers and manufactured by our own tooling workshop. We are involved in the development and implementation of new packaging according to the needs of our partners.
Manufacture of technical plastics
OVM-KARSAI's priority area of activity is the production of technical plastics, primarily for the automotive and electronics industry. Our processes focus on fast, flexible design, mold manufacturing and product manufacturing, taking into account the highest standards required by the customers. Our technology is constantly being developed according to market expectations. With our advanced automatic, semi-automatic vacuum forming machines, 5D cutting machines and other equipment, we provide our customers with products of quality desired and ensure short production time.